Schimmel
: Pferd aller Farben mit der genetischen Information
Grár / Grey
: Horses of all colours with the genetic information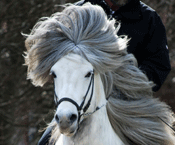 NL2001100115 - Lindi frá Malborgh

Homozygot : Schimmel / Grár / Grey
Phänomenologisch (sichtbare Erscheinung)
Im Fohlenalter beginnende Depigmentierung (ausschimmeln) der Haare.
PhenomenologicalIn foal age beginning depigmentation of the hair.
Schimmelschecke (Eeaa Gg Toto)
Genwirkung:
dominant
Gene effect: dominant
Bedingung für die Zucht eines Schimmels.
Ein Elternteil Träger der
Erbinformation
G
.
Condition for the breeding
.
A parent carrier of genetic information
G.
03 Schimmel/Braun / DE1997202466 - Linda vom Fassenhof
Schimmel/Rappe/Smoky/Cream/Tobiano (Eeaa CcrCcr Gg Toto)--Kristall von Rutenmühle
Thótti frá Hólum - Foto by 2befree Media.